2019 BMW X7

THE X7 CONCEPT iPERFORMANCE
Make way for the quintessential luxury automobile. The BMW Concept X7 iPerformance is an extraordinarily innovative vehicle, crafted with an eye for ground-breaking design and inspiring presence. Equipped with an unbelievable amount of space and comfort, it's prepared for a smooth yet powerful debut.
READY TO MAKE A GRAND ENTRANCE.
Presence is a matter of charisma. The BMW Concept X7 iPerformance demonstrates this from every perspective. Despite its considerable size, it stills gives off an air of finesse and extreme agility. The narrow styling of the rear and the dynamic design lines create a flowing, forward movement. True grandeur and superiority come through via the prominent upright kidney grilles, the mighty air inlets, and the elegantly accentuated surfaces. This vehicle radiates pure greatness.
A PALATIAL ESTATE.
Merely opening the doors makes it apparent—BMW Concept X7 iPerformance embraces spatial luxury. Generously dimensioned windows, combined with the panoramic glass roof extending from the windshield to the rear, generate an incomparable sense of airiness that brings new meaning to the phrase "out on the road." The seats themselves, a mix of dark olive-bronze and Smoke White leather, serve as a nod to exclusivity, down to the finest details.
MODERN THROUGH MODERATION.
This beauty bears the hallmarks of handcrafted, natural perfection. The X7 Concept iPerformance utilizes a brilliant mix of light and dark to create an atmosphere of balance and tranquility. Dynamic ambient and contour lighting, with strands of laser light in the roof, plus polished aluminum elements throughout the interior provide brightness. Harmony is then established through the selective use of open-pore ash wood with a dark-stained, matte finish.
PILE IN WITHOUT PILING ON.
Comfort and roominess never take a backseat in BMW's largest SAV. On one hand, the X7 Concept iPerformance was built with the driver in mind. The raised seating of the driver's cabin provides unbeatable visibility, and the 12.3-inch instrument cluster puts control at the driver's fingertips while keeping a "reduced to essentials" aesthetic. For the passengers, the adjustable second row allows for easy access to the 3rd row.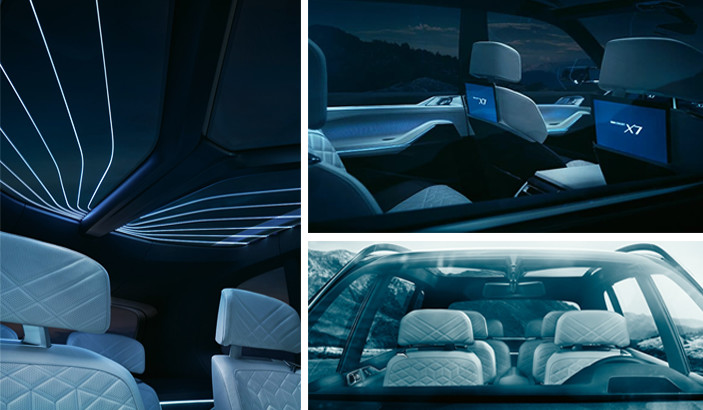 MORE THAN JUST A CONVERSATION STARTER.
This is a new form of car talk. The BMW Concept X7 iPerformance takes an unprecedented leap forward in the realm of playful and functional interaction. Second row passengers can access a plethora of infotainment courtesy of the rear-seat touchscreens. From there, the versatile, state-of-the-art interface allows passengers in the first and second rows to share content with each other—and the world at large.